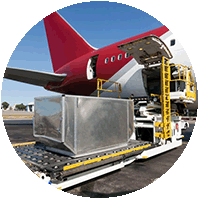 Air Cargo
Features
Air cargo shipping has many advantages, e.g. time efficient, high accuracy, etc... Some precision instruments, high-value cargo and sea food are usually shipped by air. However, the cost of air cargo is much more higher than ocean and truck load.
About The Rate
Air cargo shipping charge are calculated by it's gross weight, unit KG.
The regular maximum weight and dimension of each piece is 80KG and 40x60x100CM. For a wide-bodied aircraft, it allows bigger size cargo, the maximum weight and dimension can be 250KG and 250x200x160CM. Moreover, the sum total if it's length, width and height cannot less than 40CM.
For the light cargo, the volume of every 1KG is exceed 6000CM³, every 6000CM³ will equal 1KG.
JLink provide commercial customers customized cargo flight booking, declaration and custom clearance services. Please call our representatives for details.
Publish Date:2014-02-14